The 1955 Chevy Week to Wicked raises the bar once again for an "all-new" challenge. This time around the build crew set out to build a sweet 1955 Chevy. To start, it would be crafted together from a body out of new sheet metal from Golden Star. Then it would sit on a completely new aftermarket chassis provided by CPP. Not to mention a huge list of aftermarket bits—in less than 7 days!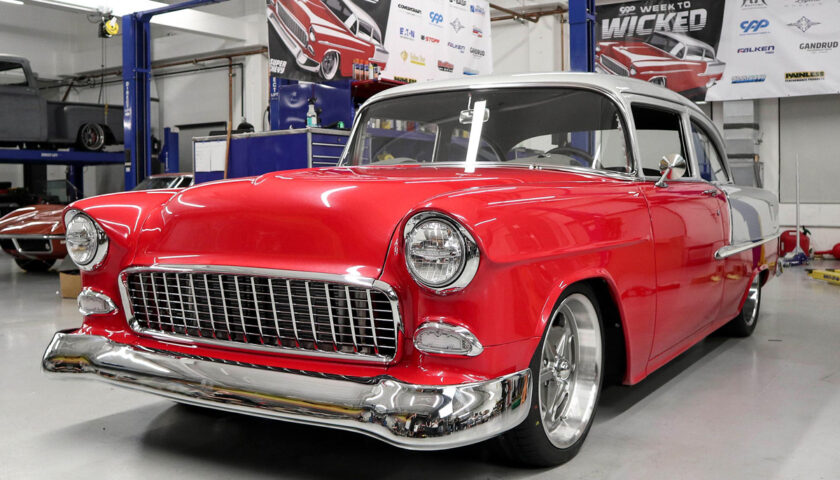 Want to see more of this 1955 Chevy and our other builds? Check Out Our Other Projects Here
The result is a 1955 created from 100-percent new parts! No rust, no damage from time and Mother Nature. Powered by a modern drivetrain including a 455 horsepower Gen V LT1 mill backed by a manual 6-speed Magnum. The Tri-Five Chevy is loaded with modern amenities throughout the cabin and chassis for more comfort on the street and performance at the track.
Related Story: Building A Pro Touring 1967 Nova In One Week!
Day One
Starting from the freshly prepped 1955 body there was no tear down for Day 1. It was just a ton of parts had to get ready to install onto CPP's New OE-style 1955 Chevy frame. The new frame is based on a factory-style chassis (along with a few upgrades) helping make most of the new parts ready to bolt-on. Up front, the CPP Totally Tubular Control Arms and Viking Dual-Adjustable Coil-Over Kit went in. Also, CPP's New Corvette-Style 2″ drop spindles and modern heavy-duty sealed bearing hubs were installed. Finally, they bolted on CPP's 14″ Pro-Series 6-Piston Performance Big Brake Kit.
In the rear, CPP's brand New triangular four-link setup incorporates Viking Dual-Adjustable Coil-Overs. CPP's High-Clearance front and rear Sway Bar Kits and 500 Series Power Steering Box bolt in place to further sharpen the handling of this '55 corner-carver. Stay tuned for more!
(See full Super Chevy story here)
Day Two
Day two of the 1955 Chevy Week To Wicked was all about bolting on parts. One team was focused on the body, installing the AC System and starting the big job of wiring. Another team had their attention on the New CPP OE-Style 1955 Chevy Frame. Final installation and brake line plumbing was completed to both front and rear CPP 14″ Pro-Series 6-Piston Performance Big Brake Kits, ensuring this shoebox will stop on a dime.
Next, the huge 29-gallon CPP EFI Aluminum Fuel tank was installed. It would feed a host of CPP EFI Fuel System components and soon the incoming new Gen V LT1 small-block V-8 powerplant
(See full Super Chevy story here)
Day Three
The tone set for Day 3 was to wrap-up any loose ends. The main goal was bringing down the '55 body to its home on the new CPP chassis and modern drivetrain. Final connections to wiring for engine management on the new LT1 and E-Stopp Electronic Parking Brake were made on the chassis. Then, further wiring continued in the body for lighting and creature comforts such as power windows and audio system.
Thankfully, the aluminum drive shaft measurements proved to be correct. Now it would connect the Magnum 6-Speed transmission to the limited-slip rearend. A big step of the build progress is made as the crew worked hand and hand bringing together the frame and body for the first time. There's still more in store before the '55 reaches its final form. Stay tuned as Week to Wicked continues!
(See full Super Chevy story here)
Day Four
Thrashing through Day 4, the crew continued to knock out the busy laundry list of details. They were getting a big step closer to thier goal. Crunching a full custom interior install into a matter of hours is no simple task. But, as the cabin came together so did the AC system, core support and cooling, tail-lights, and exhaust system. A set of American Legend Wheels get prepped, but there's plenty more to complete before final pieces of the puzzle are set in place. Stay tuned for the final build day!
(See full Super Chevy story here)
Day Five
The fifth day of the 1955 Chevy Week to Wicked typically ends as a day of "firsts." What we mean is first time firing the engine followed by first smokey burnouts. But in this installment we find ourselves heading into Day 6. This car is being done the right way. This is no "slapped together enough for video" build. So, when the all-new '55 drives out of our Motor Trend Tech Center it really will be a done car.
The main focus of the day was more wiring. No surprise there as it's always one of the toughest aspects of these builds. But they also installed the CPP Hydrastop Hydraulic Brake Assist System and plumbed it into the CPP 500 Series box. Falken tires were then mounted to a set of Racer American Legend wheels. They finally started prepping the fenders for install. Stay tuned for more Week to Wicked!
(See full Super Chevy story here)
Day Six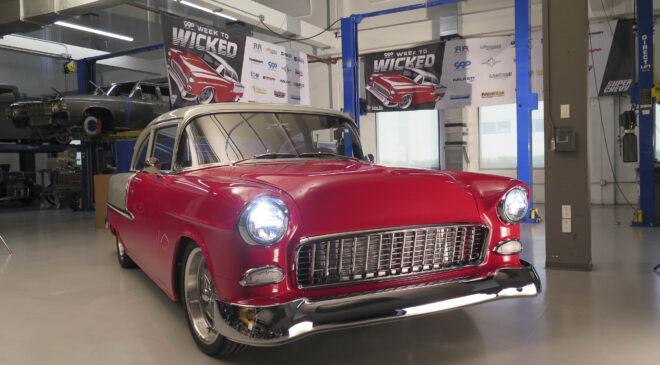 THAT'S A WRAP! Day 6 ends the build week with an all-new 1955 Chevy that's ready to hit the streets, shows, and the track. The crew buttoned up the final pieces and fired up the engine for the first time. It's hard to imagine that, in less than 7 days, it all started from a bare new frame. Not to mention brand new body, and a shop full of the best products available on the market.
CPP Featured Products From The Build
Pre-Build Stories
1955 Chevy Built From All New Parts!
Adding a slick firewall and larger transmission tunnel to our Real Deal Steel 1955 Chevy
Our Week To Wicked '55 Chevy Sedan gets its color
Build Photo Gallery