We were out enjoying the C10 Nationals and noticed a patina 1966 Stepside C10 being hustled around the CPP Autocross course at Texas Motor Speedway. It's always fun to see a weathered old truck driven hard, but what caught our attention next was who stepped out at the end of the run. It was a young high school kid with his dad (presumably) in the passenger seat. Was this just dad's truck or was it really his? We had to find out.
As it turned out the owner of the patina 1966 Stepside C10 was in fact 16-year-old Darren Hanchey of Killeen, TX. After a brief chat, we even found out he'd built the truck using a bunch of CPP parts. Not wanting to interrupt the weekend fun, we let him get back to driving and caught up with Darren after the show to learn more.
Related Feature: Patina 1969 Chevy CST/10 is a Sleeper You Can Daily
Why a Patina 1966 Stepside C10?
"I got into cars and trucks from being in my dad's body shop growing up," recalled Darren. "Now cars and trucks are what I plan on doing for a living and I'm very grateful for my dad's influence." The C10 also came about thanks to his dad's body shop. According to Darren, "A customer at my dad's shop abandoned the truck after finding a better restorable truck." It might not have been the right candidate for a restoration, but it was the perfect diving board for this young classic car enthusiast's first project.
In just six months, Darren and his dad got the C10 up and running, "despite", Darren noted, "having only an empty cab with doors and a bare frame." He continued, adding, "we converted the frame from longbed to shortbed then I prepped and painted the chassis with POR-15. We found a same colored '65 C10 in the junkyard that we used for the front sheetmetal and bed parts from three other trucks my dad had restored to complete the truck." Darren's dad put in the hours to repair rust in the usual areas, then to preserve the patina, they sprayed the exterior with a satin clear coat.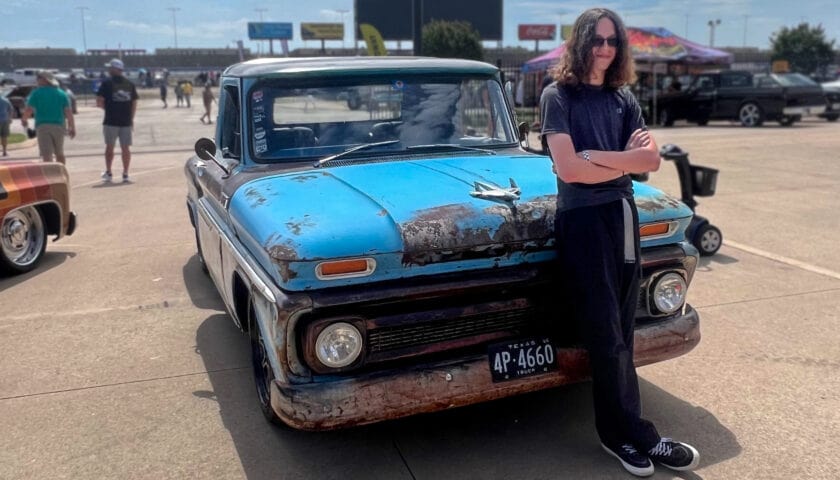 Going Beyond Stock
But the build didn't just stop at a shortbed conversion and patina preservation. Underneath the '66 Chevy Darren upgraded the truck with a bunch of CPP suspension, steering and brake goodies. Up front went CPP 2-inch drop spindles and 2-inch drop springs paired with CPP nitrogen drop shocks. The lower control arms were also upgraded to a set from CPP which were then tied together with a sway bar. Out back, the stance is set using a CPP crossmember and C-Notch Kit with 3-inch drop coils and 2-inch trailing arm drop blocks. To help the rearend rotate out on the autocross course, they also opted to add a CPP rear sway bar.
Braking is handled by 11" disc brakes up front from a later model C10 including master, booster and proportioning valve. Out back is a CPP disc brake conversion and e-brake system. Then, to get the C10 steering as well as it rides and stops, Darren installed a 500 Series power steering conversion kit.
What made them decide to use CPP for so many of the chassis upgrades? Darren told us, "My dad has been using CPP products for his personal and shop restomod builds since 2004."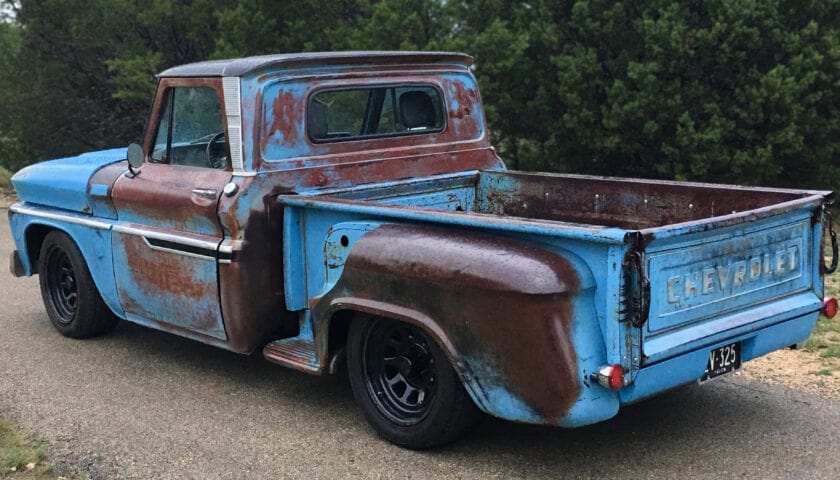 Under the hood is a mild 305ci small-block Chevy with a thumper cam tossed in for a little more power and presence. A FiTech 30003 EFI system was chosen to reliably feed the V8. Then, a "World Class" T5 5-speed from a Chevy S10 was installed to increase the fun factor of the truck. Power is sent to the rear wheels via a GM 12-bolt with 3.73 gears. Currently the rearend is equipped with an open differential, but upgrading to a limited-slip is high on Darren's to-do list.
Speaking of wheels, Darren originally set the truck on a set of circle track style black steel wheels (pictured in some of the photos). More recently, he dressed the truck with some modern 20X9-inch matte black D760 wheels from Fuel Tech wrapped in 245/40R20 Kuhmo Ecsta tires.
Inside the truck, Darren and his dad installed an ididit tilt steering column with a billet steering wheel from Flaming River. All the important readouts have been converted from mechanical to electronic with a set of blue Dakota Digital VHX Digital Gauges. Then, for seating, Darren got creative and retrofitted a set of black leather folding captain's chairs with console from the third row of a 2017 Honda Pilot. Since the original build, he went back and installed a Bluetooth stereo from RetroSound, complete with Kicker 5 1/2-inch kick panel speakers and a 10-inch subwoofer.
Future Plans
As is the case with most classic car or truck builds, it's never really finished. Darren still plans on installing a Vintage Air climate control system to keep him cool on those hot Texas summer days. He also wants to upgrade to a 20-gallon aluminum tank with baffles to keep the fuel slosh under control in the corners. Finally, Darren said he's going to be relieving the 305ci small-block and replacing it with either a Gen III or IV LS engine using a CPP LS Conversion Install Kit.
Regardless of the direction Darren takes this patina 1966 Stepside C10, we'd say he's gone one heck of a first truck and a bright future of hot rodding ahead of him.