Since the beginning, Classic Performance Products, Inc. (CPP) has always been about delivering quality parts at an affordable price. Going into our 30th year of business, that still rings true today.
All the products we offer are designed with the end user in mind. Our parts are thoughtfully crafted with the perfect blend of functionality and style without sacrificing quality. Through track days and thousands of street miles, we put our products to the test. This strategy has helped us deliver performance-proven parts that don't compromise every-day drivability. What's more, we aim to offer our products at a price that most enthusiasts can afford.
Related Story: How We Make Tubular Control Arms with Robotic Welders
Just because we've got a robust offering of parts already doesn't mean we're about to sit back and relax. From our revolutionary Corvette Style Spindles for Mustang II suspension to our complete bolt-on Pro Touring Kits, we are always looking for ways to improve on current designs and break new ground with completely re-imagined products.
If you are looking for the best in classic car and truck performance parts, look no further than CPP.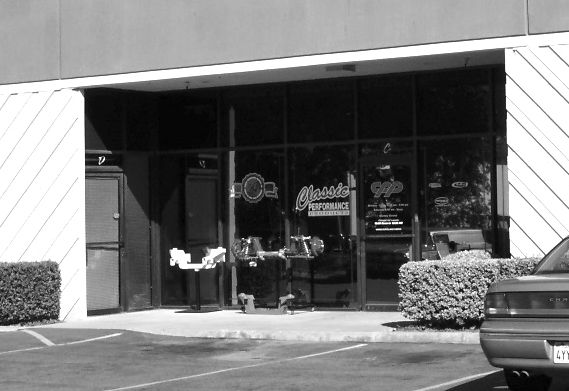 Who is CPP? This is Our Story:
Established in December of 1991 by Jim Ries and his wife Jill, Classic Performance Products, Inc. set out to redefine the classic truck industry. The goal was to provide better quality steering, suspension and brake parts at a price the every-day enthusiast could afford. It started with re-imagined engine and transmission crossmembers followed by bolt-on disc brake kits, then C10 lowering kits and it kept going from there.
In the early days of CPP, the company was run out of the Ries family garage. By 1993 they needed more space so they signed a lease on a warehouse with a sales office and 300 sq. ft. showroom in Buena Park, CA. The product line kept expanding, now encompassing the classic car market too. So, by the early 2000s, they needed even more space. In 2005 they moved again, this time to Anaheim, CA. By 2011 CPP was occupying 40,000 sq. ft. in multiple buildings including offices, milling centers, R&D and more. It even included a 3,000 sq. ft. showroom.
Still, more space was needed so in 2012 CPP made its biggest move yet and purchased an 80,000 sq. ft. building in Placentia, CA. This brought the entire operation under one roof, which helped to streamline the business with the goal to offer even better products for the customers.
With no end in sight, CPP continues to develop and deliver some of the best classic car and truck products in the industry at the right price.