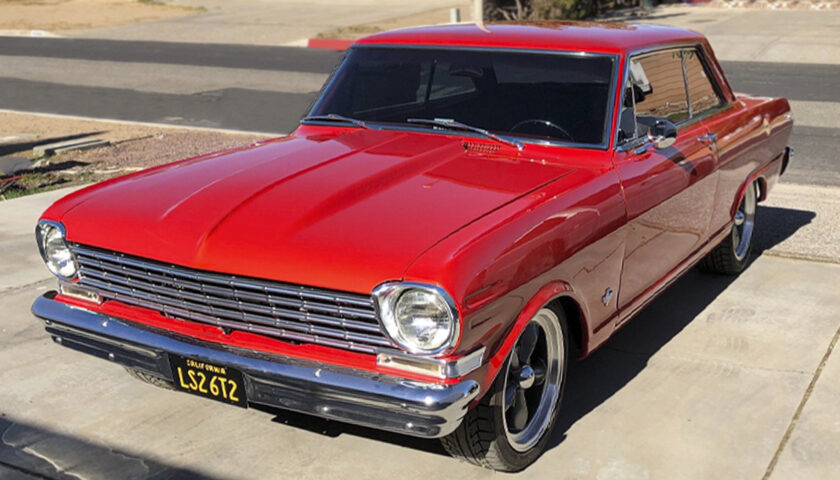 For the 1962 model year, Chevrolet released an all new budget passenger car called the Chevy II. It was revolutionary and unlike any other car of the time (well, besides that other small econo-box named after a bird of prey). GM's goal was to make a vehicle cheap enough that middle-class American households could afford a second car and that's exactly what they did.
Related Story: 1000HP F100 with Pro Touring Chops and Bowtie Power
What Chevrolet didn't see coming was the Restomod and Pro Touring movements that blew up a half-century later. Early Chevy IIs and Novas turned out to be popular alternatives to mainstream muscle cars of the era for their more affordable price and light weight. Choosing a lower-end product as a platform for performance did come with a price. Problem areas quickly presented themselves; namely, a chassis and suspension design that was barely sufficient for grocery runs 50-some years ago.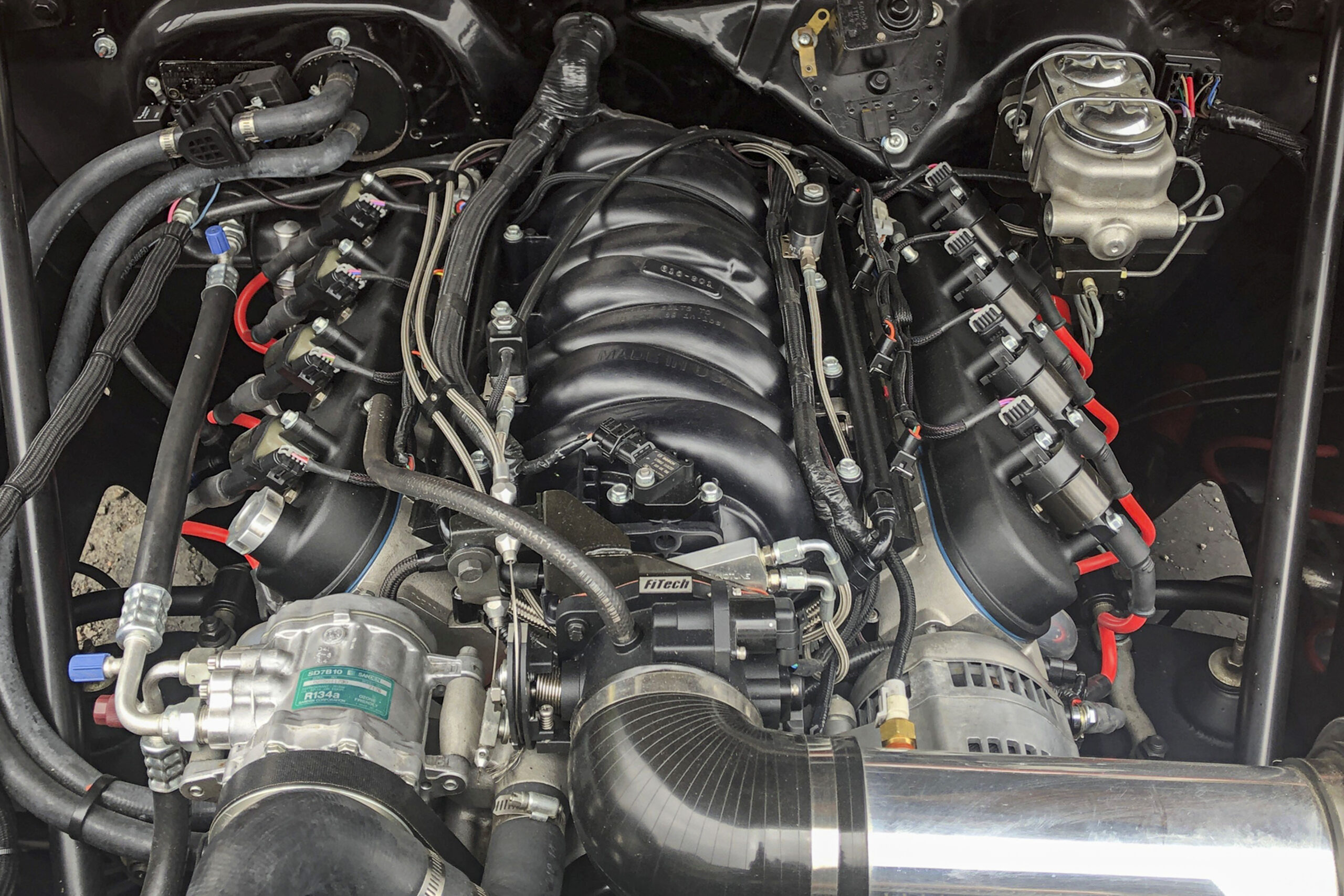 Now, enter Aaron Strietzel of Victorville, CA. One youthful encounter with a bright yellow hardtop Nova destined him to be a Chevy II/Nova fan for life. "Ever since I was a teenager," Aaron recalls, "I've owned a Nova—or a few—from hardtops to wagons. I have owned about 15 total over the years." After a couple decades working on and driving all kinds of Novas, he decided to go all out. The car Aaron chose to build was his 1962 Chevy II Nova. The goal was to turn the Chevy into, "a full street, strip and road course machine that can drive anywhere."
 Aaron, a longtime employee at Classic Performance Products Inc. (CPP), knew the inherent flaws in the '62 design. He also knew how to fix it. While a CPP Mini Sub-Frame kit would have made a world of difference, Aaron decided a complete Mustang II overhaul was in order. A CPP Mustang II IFS Kit with a power rack, sway bar and tubular control arms plus Viking double-adjustable coilovers turned the frontend of the car from a disposable grocery getter to a modern, Pro Touring machine. In the back of the 1962 Chevy II, Aaron fitted Calvert Racing Split Mono-Leafs and traction bars with Viking double-adjustable shocks to a Currie 9-Inch crate rearend.
Stopping was handled by a complete CPP Big Brake Kit. That meant 13" drilled and slotted rotors on Mustang II drop spindles in the front plus 12" drilled and slotted rotors in the rear with black calipers all around. Aaron also opted for manual brakes using an CPP aluminum master cylinder and proportioning block. Then the rubber on the road is a set of BFGoodrich tires mounted on 17X8 inch five spoke Vision Wheels.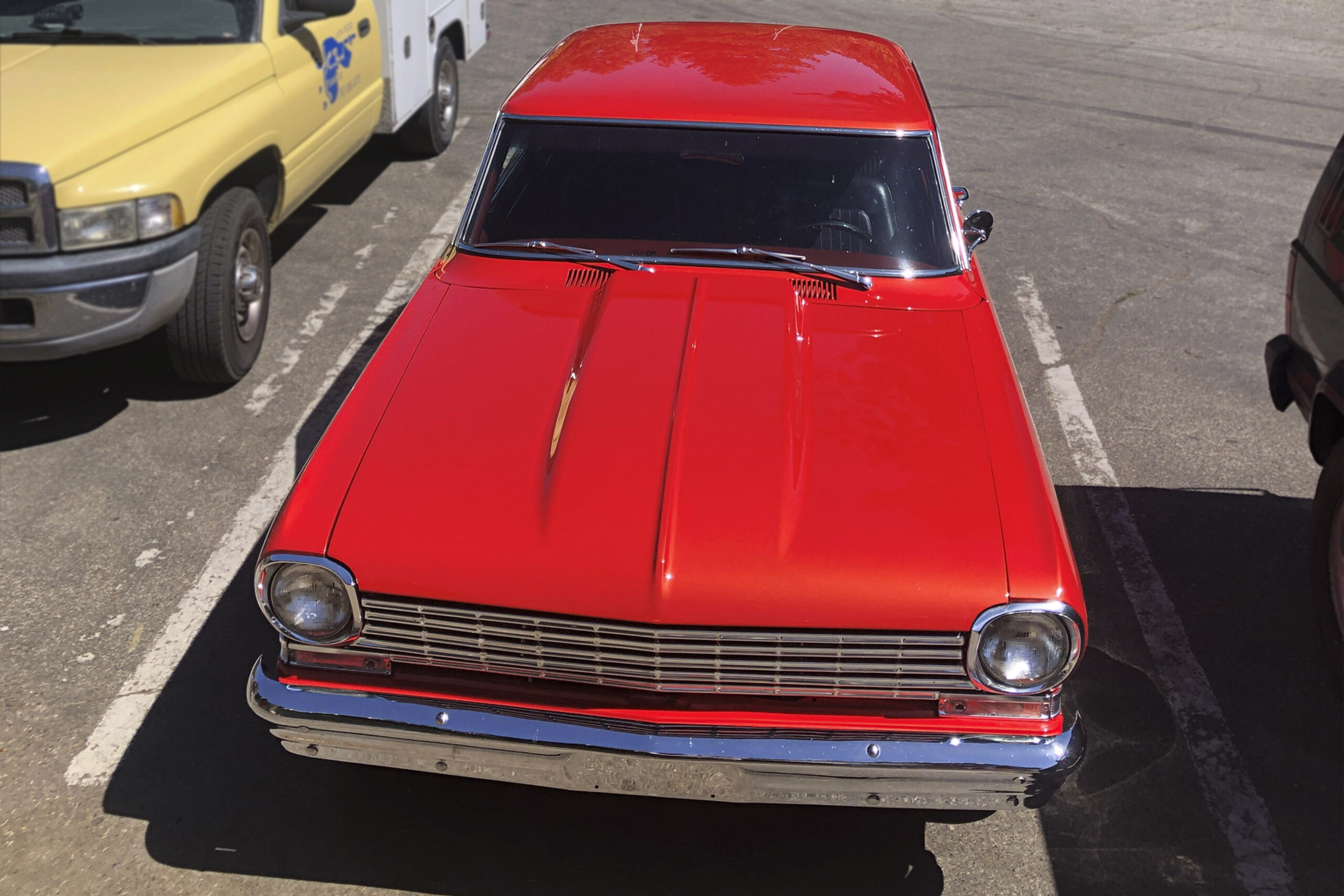 With a chassis setup like that, Aaron definitely hit the nail on the head in the drivability department—but that is only one piece of the puzzle. The Nova wouldn't be much fun on the drag strip or road course without some oomph under the hood. He had seen enough guys spend thousands on an inline six to squeeze out a meager 250 horsepower so he quickly shifted away from the '62 Chevy's roots and went the LS route. The basis for the engine build was an all-aluminum LS2 out of a 2007 Corvette Z06. After upgrading the engine with an intake, heads, cam, modern EFI and CPP IFS headers, the beefed-up LS was ready for some action. Oh, and we almost forgot to mention the 200 shot of nitrous Aaron added on top of all that "for some additional fun." Then, to handle all the power produced by the LS2, Aaron opted for a 200-R4 automatic overdrive built by TCI.
Aaron wanted to keep the modern theme going on the interior and exterior of the Nova too. He chose a brilliant color called Inferno Orange Metallic sourced from a 2010 Camaro. Inside, a set of Procar by SCAT low back seats are surrounded by otherwise factory-style upholstery. An IDIDIT steering column connects to the CPP power rack and a Bluetooth head unit from Custom Autosound sends tunes through an array of speakers. Dakota VHX gauges, a B&M shifter and A/C from Vintage Air round out the features Aaron worked into the cabin of the old Chevy II.
Aaron completed the whole build in his home garage (except for paint) and, after six long years, the Nova was finished. The only thing left for Aaron to do is finally get it out on the road and start putting some miles on it.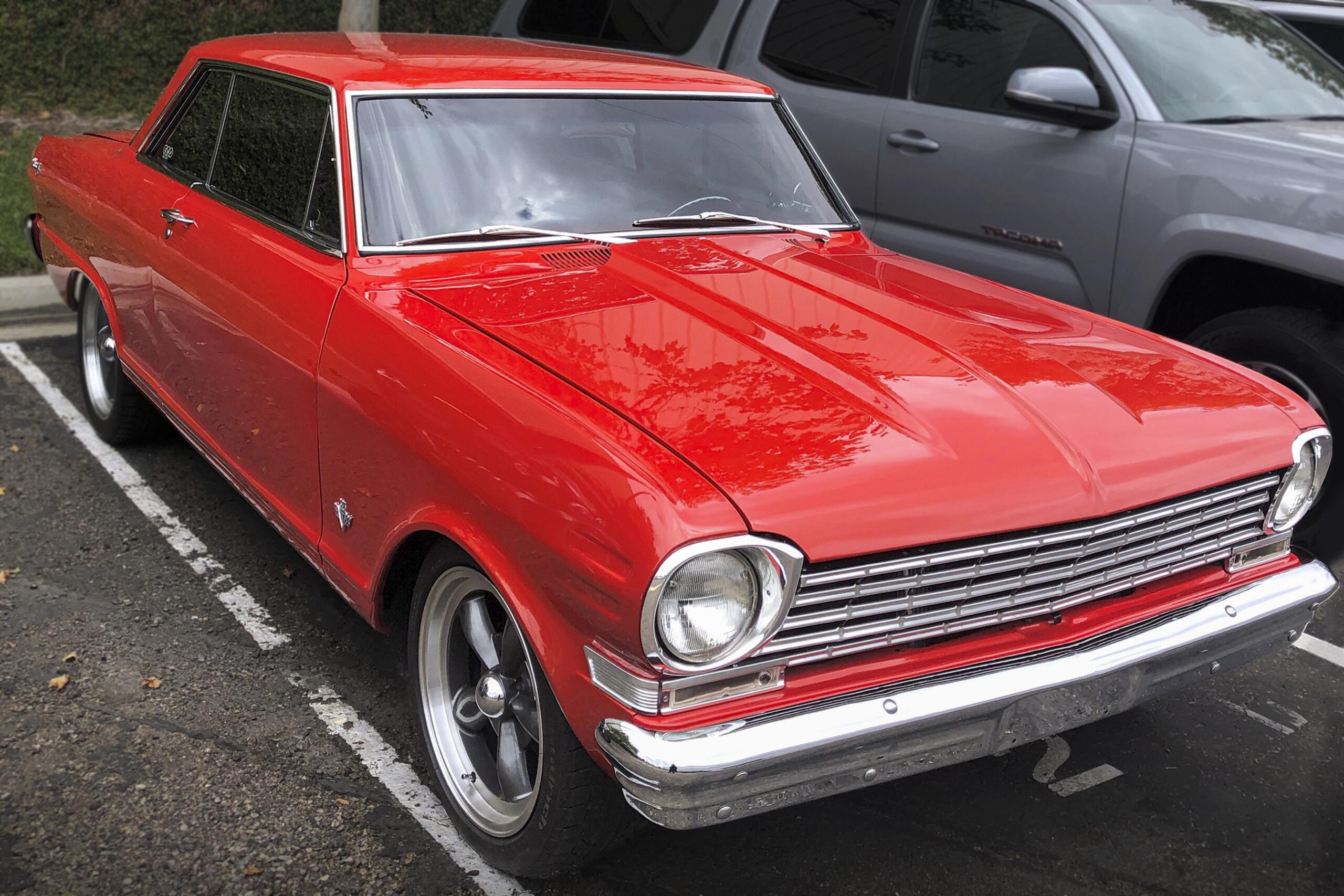 Aaron's Tech Tips for Installing CPP Parts:
Most items installed were very straight forward. Take your time to keep items like firewall shims removed from the original sub frame to see how much adjustment or shimming is required.
Keep in mind that the CPP front end (as well as the TCI) center the engine back in the engine bay. This means the engine is no longer offset to the passenger side. It makes for a nice setup but transmission cross members give enough slack to center the transmission back up—super simple.
Pre-install items like brake lines, fuel lines, etc. prior to painting or powder coating your front end. Doing a mock up first will make for a cleaner finished product. Nobody likes drilling through fresh paint or powder coat.
1962 Chevy II Street/Strip/Road Course Build Specs:
Engine: 364ci all-aluminum LS2 with modified heads, BTR Stage III camshaft, LS9 lifters, Holley Mid-Mount Accessory Drive, FiTech Ultimate EFI, LS6 intake manifold, CPP Tube Headers for IFS and NX Express 200 shot of nitrous.
Transmission: TCI 200-4R with PTI 3,600 stall converter.
Rearend: Currie 9" with 3.70:1 gears and TrueTrac limited-slip differential.
Front Suspension: CPP Mustang II IFS including power rack and pinion, sway bar, tubular control arms and Viking double-adjustable coilover shocks with 325lb springs.
Rear Suspension: Calvert Racing Split Mono Leaf Springs and Low Profile Traction Bars with Viking double-adjustable shocks.
Brakes: CPP Big Brake Kit including 13" drilled and slotted rotors front, 12" drilled and slotted rotors rear with CPP manual aluminum master cylinder and proportioning valve block.
Wheels & Tires: 17"x8" Vision Legend 5 wheels and BFGoodrich tires.
Paint: 2010 Chevy Camaro Inferno Orange Metallic DuPont 2 stage.
Interior:  Procar by SCAT Low Back seats; headliner, carpet and seat covers from Chevy II Only; IDIDIT steering column; Custom Autosound Bluetooth head unit, center dash speaker, 4" kick panel speakers and rear 6"x9" speakers; Dakota Digital VHX gauges; Vintage Air A/C; and B&M shifter.