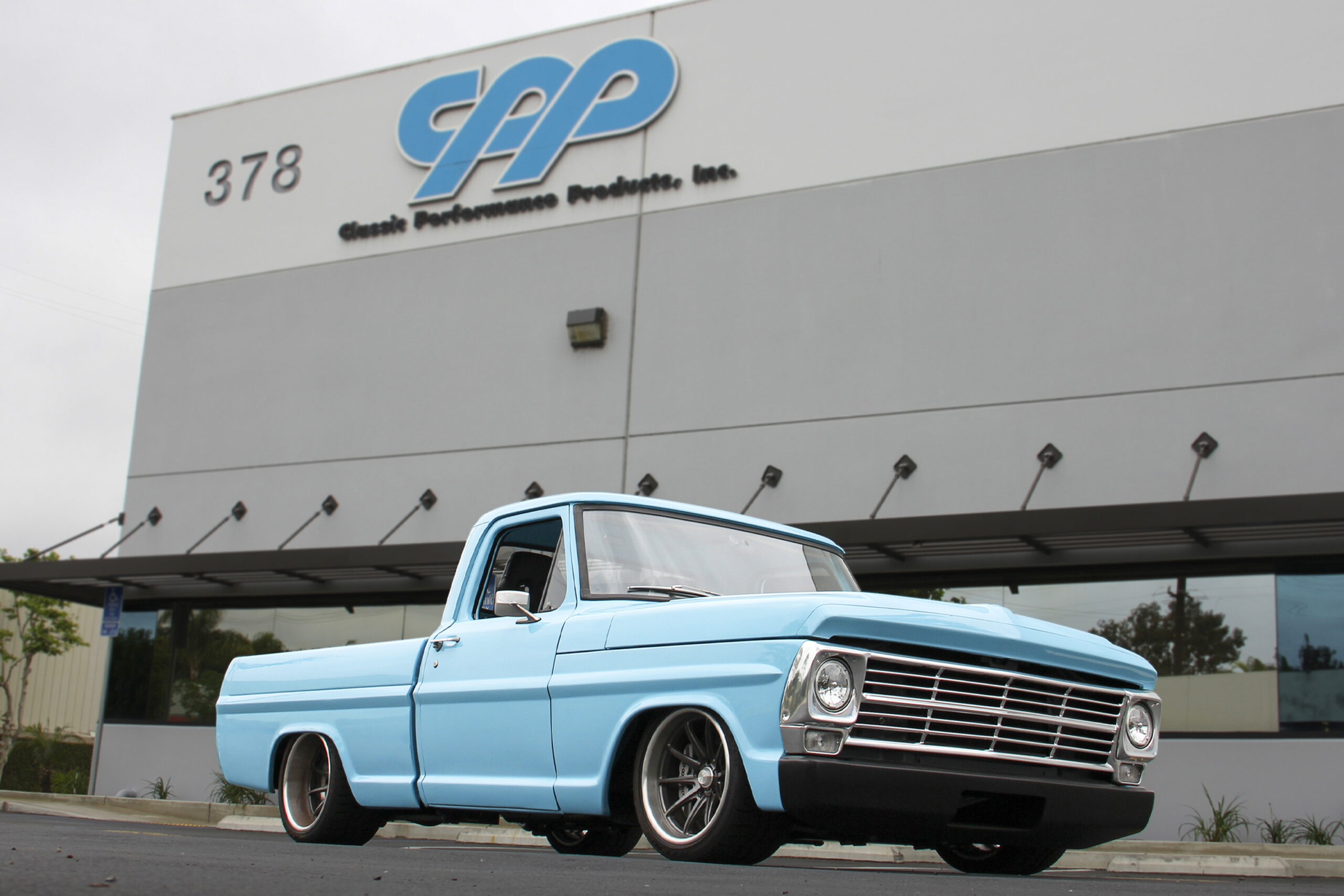 The original goal for this 1000hp F100 was big power and Pro Touring style combined with the classic lines of a Bumpside Ford. As such, Jason Scudellari of Huntington Beach, CA knew some Blue Oval feelings might be hurt in the making of his ideal 1969 F100.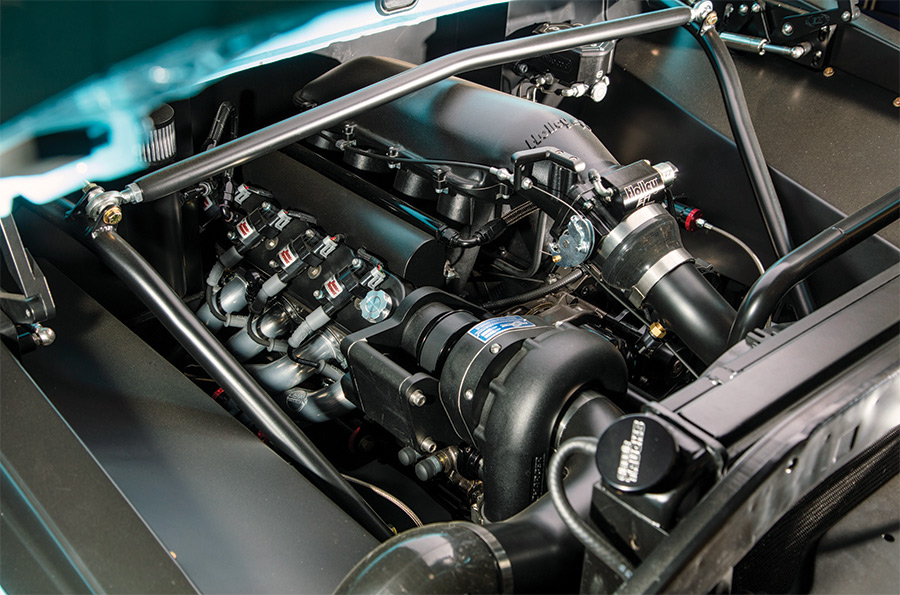 The project started back in 2018 when Jason, head of the Research and Development Department at Classic Performance Products Inc. (CPP), was working at the MotorTrend Group as their Tech Center Manager. In the years prior, he built a few Chevy's to create tech articles for Classic Truck magazine and Super Chevy magazine. With those projects wrapped up, Jason started thinking about what he should build next. Although the Bowtie line of vehicles were his go-to, he decided to take a different direction.
Related Story: New Product! Corvette-Style Mustang II Spindles and Hubs
With the popularity—and price—going up for 1967-'72 Chevy C10s, Jason looked to the Ford counterpart as an opportunity to give some love to the similarly-styled Bumpside F100s. "Working at Motortrend at the time," Jason recalled, "it was a perfect truck for edit in Classic Trucks magazine." And the end game for the truck, according to Jason was, "Lots of horsepower with a Pro Touring style." So he found a short bed 1969 F100 with a straight, rust-free body and got to work.
Step one was removing the fenders, cab and bed from the Twin I-Beam frame for a re-spray. The truck only needed a little bodywork to fix some minor dents and dings before being ready for paint. Not wanting to spend 10s of thousands on a high-end job, Jason built a make-shift paint booth at the MotorTrend Tech Center in Santa Ana, CA and do it himself. It also gave him the opportunity to show readers a more do-it-yourself method of painting a truck. With a rough color in mind, he mixed together some blue and white paint he got from Summit Racing, then sprayed it on. While the color didn't turn out exactly like he'd intended, it ended up being one of the most notable features of the truck. Jason tells us he gets DMs on his Instagram account (@week2wickedjason) regularly with people asking what the paint color is. His response: "Summit Custom Blue Blend."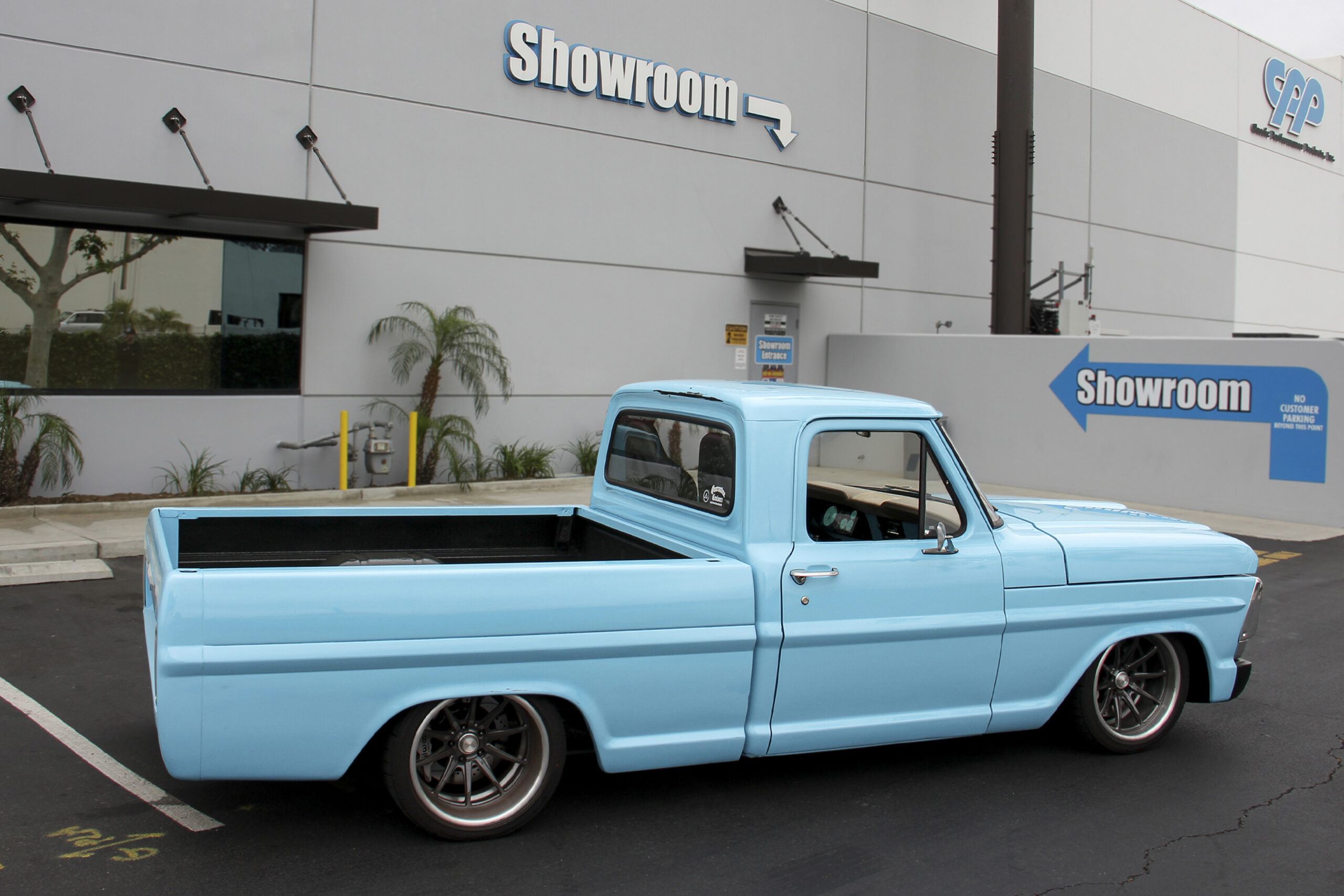 While the paint was curing, Jason had some time to start thinking about how to get that Pro Touring style he was after. At the time, there was little aftermarket support for the Twin I-Beam chassis. So, instead of trying to make the factory frame and suspension work, Jason reached out to Fat Man Fabrication for a complete chassis which came fitted with a Mustang II frontend and 9-Inch rear.
The chassis certainly got him closer to the Pro Touring look and functionality, but Jason decided to massage it a bit more for increased negative camber up front and a lower ride height in the rear.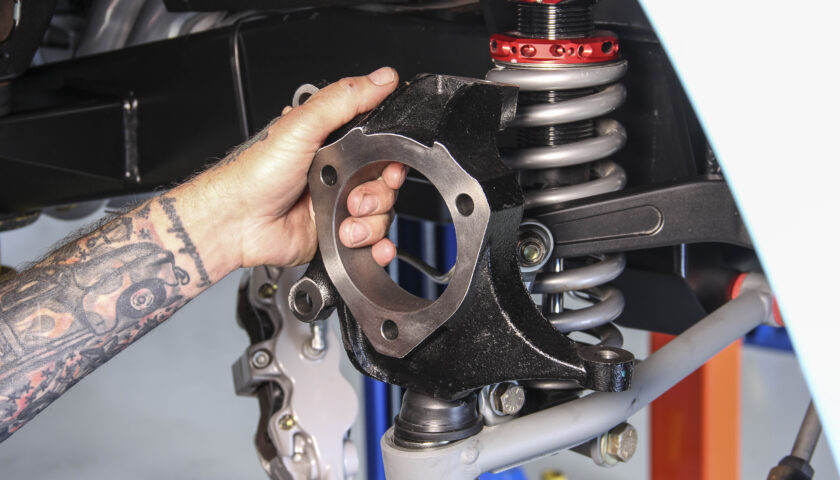 Then, for some added strength and reliability, Jason upgraded to CPP's new Corvette-Style Spindles and Hubs for Mustang II which paired well with big 14-inch, six-piston Wilwood brakes. To complete the modern high-performance look, Jason opted for 18X12 rollers from Schott Wheels wrapped in 315/30R18 Falken RT615K rubber all around.
Click HERE to learn more about CPP's Corvette-Style Spindles and Hubs
Ok, we've ignored the Bowtie-shaped elephant in the room for long enough. Initially, Jason looked into some Ford options to go under the hood but found that, without getting overly complicated or expensive, nothing would put up with the huge power he wanted. After dropping supercharged LS engines in a couple other vehicles in recent years, Jason decided to go with what he knew would work: A ProCharged LS3. With the boost turned up, the combination put down an easy four-digits on the dyno (How many 1000hp F100s do you know of?). Then, to feed the engine the juice it needed, Jason again turned to CPP and picked up one of their fabricated aluminum fuel tanks.
All that power would be send back to the 9-inch rearend the fun way; AKA through a manually-shifted 6-speed TREMEC T-56. And, to complete a driver-focused, Pro Touring theme, Jason outfitted the interior with bucket seats, door panels, and a dash pad from TMI Products. He also ditched the factory gauges for some seriously modern tech in the form of a 12.3-inch digital dash from Holley sitting in a hand-fabricated bezel.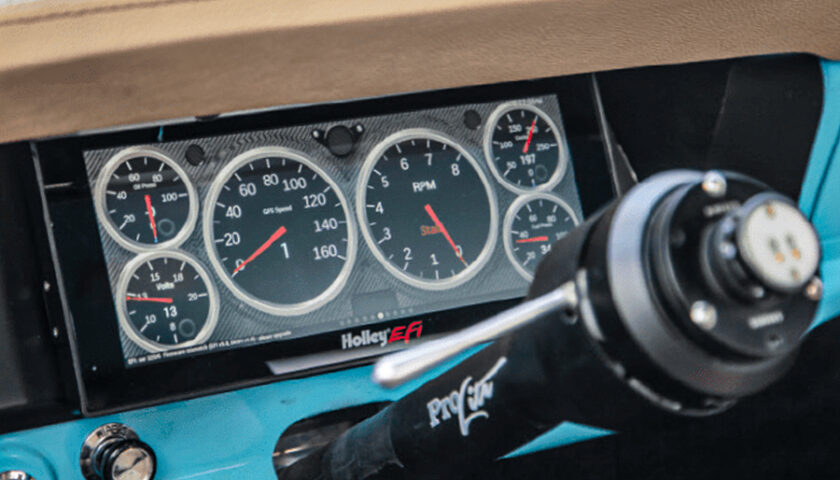 Speaking of hand fabricated, one of the most unique aspects of the build is not that it's a 1000hp F100 with an LS under the hood. What is really unique is all of Jason's intricate fabrication work that can be seen throughout the truck. He worked with Art Morrison Enterprises to design custom frame to firewall braces along with a harness and door bars in the cab. Then Jason made inner fender panels in the engine bay from scratch. The biggest feat of fabrication work, though, came when he decided to move the engine 11-inches toward the rear for better weight distribution. That meant custom motor and transmission mounts plus a completely reworked firewall and trans tunnel.
The whole build took Jason a mere 11 months to complete. He intended to unveil the 1000hp F100 for the first time at SEMA 2020. Unfortunately, that didn't happen for obvious reasons, so instead Jason did something arguably better. Every month since April 2020 he's been taking the truck out to a little event in Huntington Beach, CA that he and a couple buddies started. They call it the Quarantine Cruise—ever heard of it?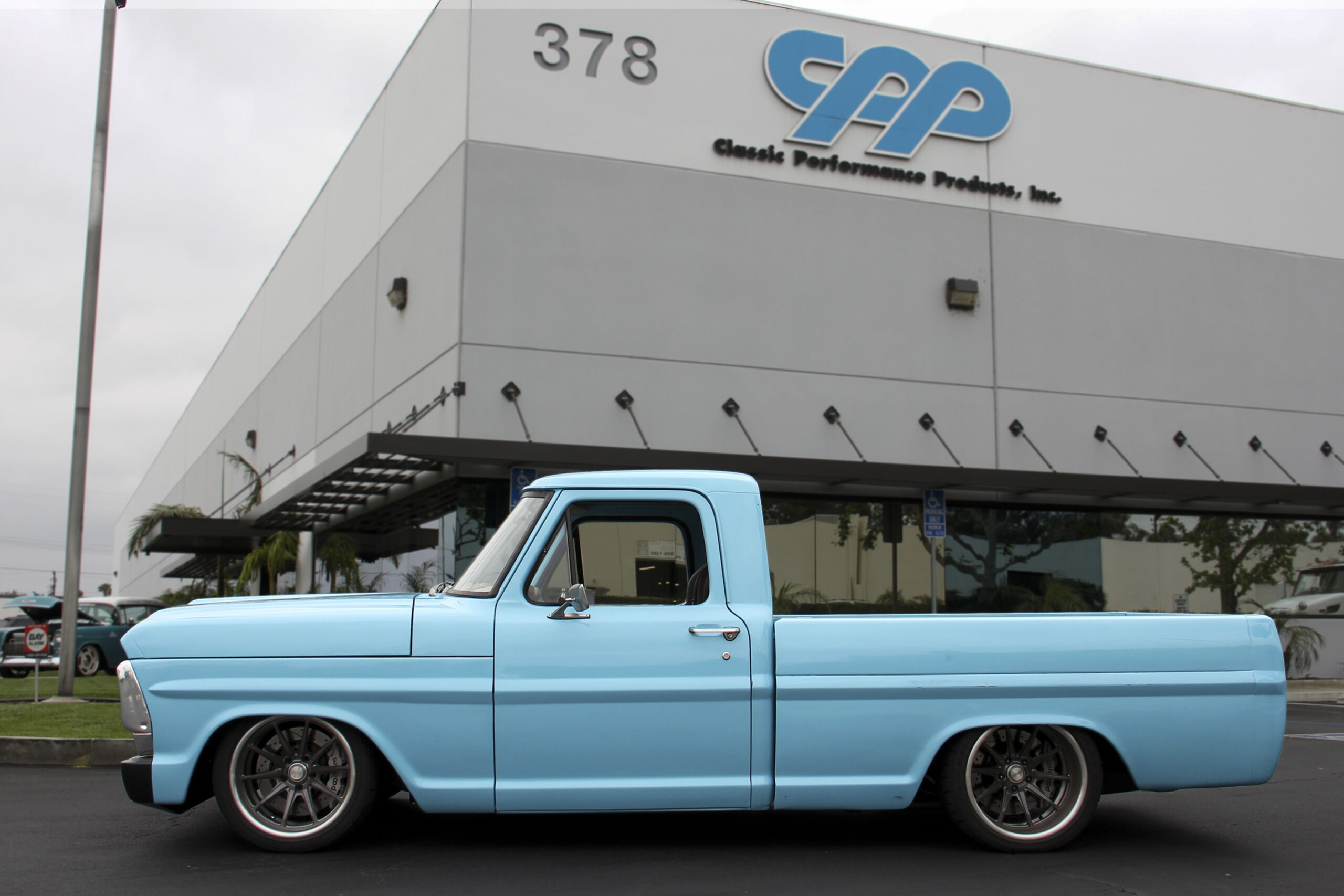 1,000hp 1969 Ford F100 Build Specs:
Engine: ProCharged LS3 that makes over 1000hp.
Transmission: 6-speed TREMEC T-56.
Rearend: Johns Industries Ford 9-Inch
Front Suspension: Started with a full Fat Man Fabrications chassis with geometry changes made to the front and QA1 MOD coilover shocks.
Rear Suspension: Fat Man Fabrication 4-Link with QA1 MOD coilover shocks.
Brakes: Wilwood 14-inch discs with 6-piston calipers front and rear.
Wheels & Tires: 18×12-inch Schott Wheels with 315/30R18 Falken RT-615K tires all around.
Paint: Summit Custom Blue Blend.
Interior: TMI Products with a Holley 12.3-inch digital dash.