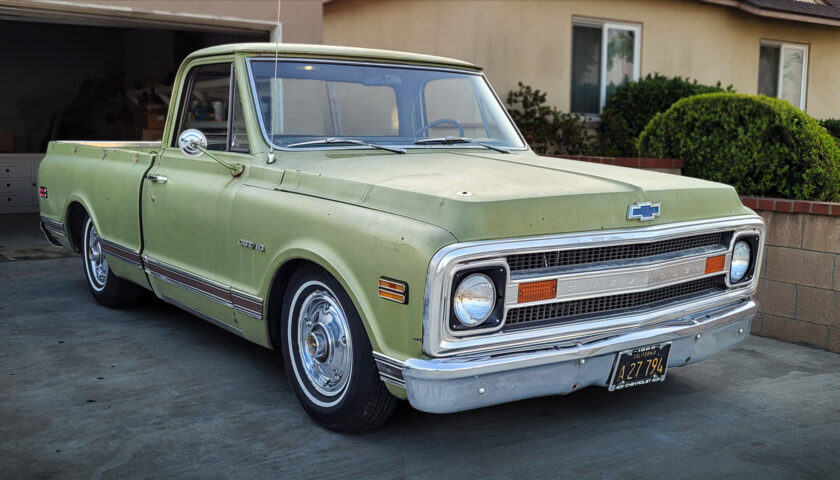 These days, people are actually starting to appreciate the weathered look of classic truck that's been around a while. The problem comes when you want to turn that vintage yard art into something drivable. Or should we say "the problem was" because now there are companies like Classic Performance Products Inc. (CPP), who specialize in making bolt-on parts to make classic cars and trucks drive as good as they look.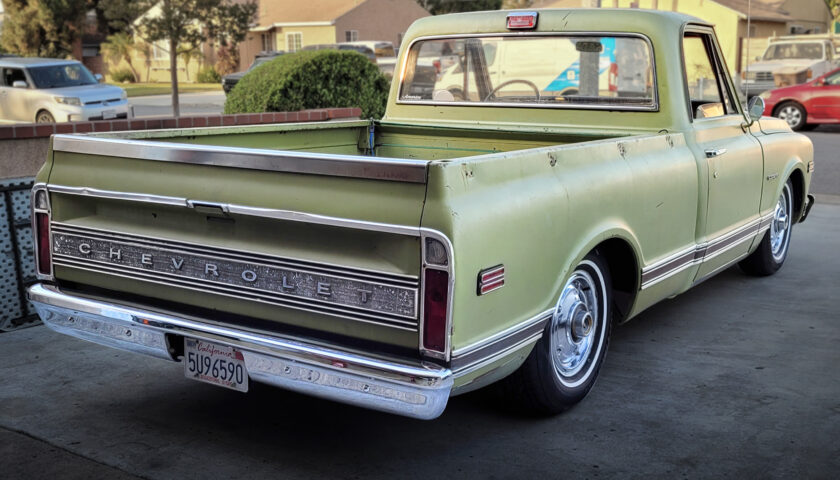 Chris Vargas of Anaheim, CA, and one of the sales reps at CPP, was all aboard the patina train the day his friend brought home a worn Olive Green 1969 Chevy CST/10. "Ever since he got it I was always bugging him about selling it to me," Chris recalled. Then it happened: "One day he needed money and we worked out a deal and he handed over the pink slip." Or, the way Chris remembers it, "We traded my green paper for his green truck and that's how my project started."
Related Article: How to Install a CPP Premium Tilt Steering Column in 1967 to 1972 Chevy C10 Trucks
The goal for the build was pretty simple, he wanted to make an honest daily driver out of the C10. Living in Southern California though, big-dollar show trucks are all over with their 22s and "look at me" paint, but Chris wanted something a little more understated. "I wanted the truck to have a sleeper look and not attract too much attention. It looks like an old lowered C10, but once you jump in it and turn the key, it really shows you a whole other side to the truck," he proudly stated. So what is that whole other side of the truck? Glad you asked.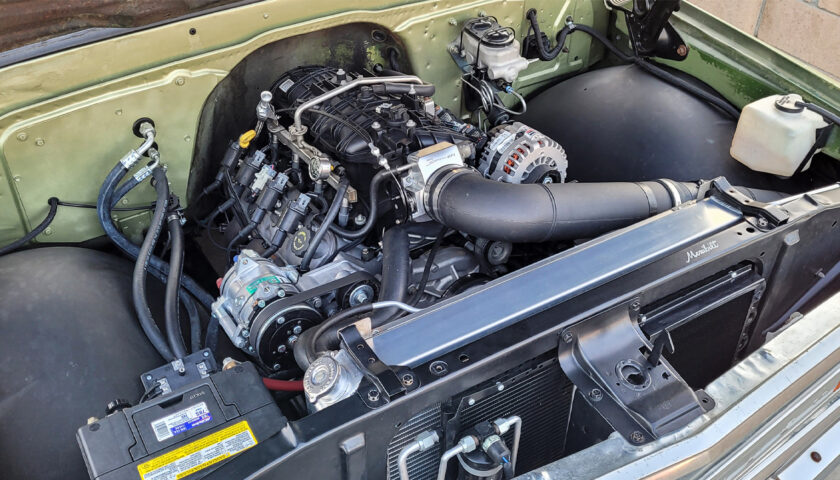 Over the course of eight months and with the help of his dad and another friend, Chris tore the truck down and built it back up. For power, Chris went with a 4.8L Vortec truck motor bored out to 5.7L and fitted with hotter cam and LS1 injectors. An upgraded 4L60E would handle the gear changes and send power back to a 12-Bolt rearend with a limited-slip differential.
Underneath is a long list of CPP goodies from Modular Drop Spindles and 12" disc brakes to Tubular Control Arms and a c-notch kit (for the complete list of modifications and part numbers used, check out the full build specs below). The total drop adds up to 5.5" front and 7" rear sitting on 15" steel wheels with stock CST/10 hubcaps and rolling on Hankook whitewall tires.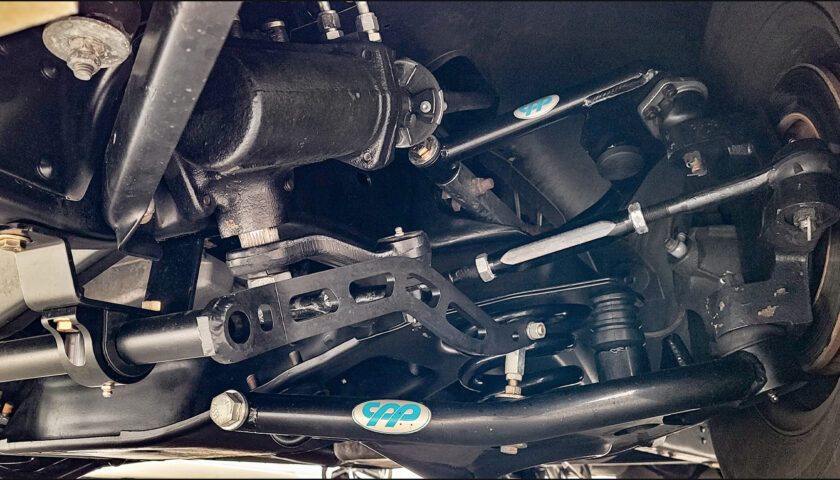 When we asked Chris what he liked most about the CPP parts he said, "CPP makes an affordable and reliable product. In most instances, no major modification is required to install." Then, after a short pause, he added, "I've been lucky to get an inside."
In the cabin of the '69 Chevy, Chris kept the stock CST/10 bench seat and matching door panels but upgraded to a CPP tilt column, Modern Dakota Digital RTX gauges and a Lokar shifter. Underneath he used sound deadening insulation from Dyanamat with some upgraded Kenwood speakers controlled by a Bluetooth Pioneer headunit and it's all kept cool using a Vintage Air A/C system.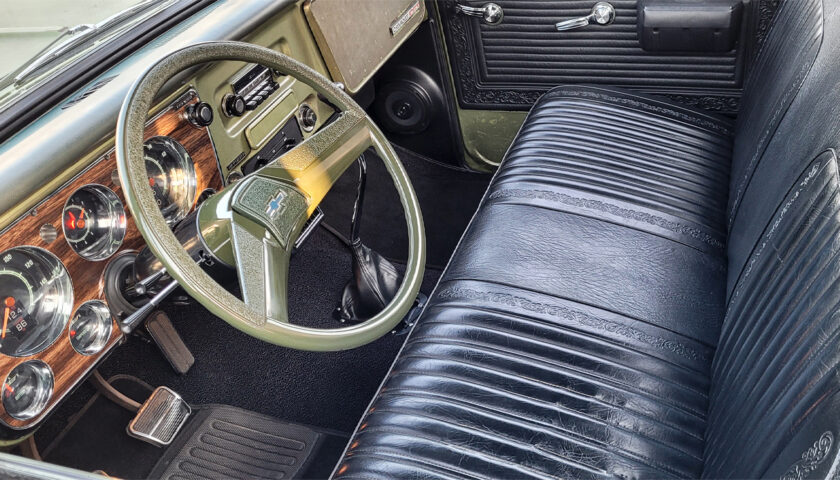 After eight months of late nights and long weekends, Chris finally had the truck on the road to handle those daily driver duties. But, like most classic car or truck builds, it's never really finished. One thing Chris still has on the back of his mind is giving the truck a little more power in the form of a supercharger. If he ever does add boost to the Vortec motor, at least he knows he's got the modern brakes and suspension to handle it.
Chris's Tech Tips for Building a CPP-Equipped Vehicle:
"Take your time and do it right the first time even if it costs a little bit more—it will be worth it to not have to do things twice."
Patina 1969 Chevy CST/10 Build Specs
Engine: Vortec 4.8L out of a Silverado bored to 5.7, Brian Tooley Racing camshaft, trunnion upgrade, LS1 injectors, stock GM computer and PSI harness.
Transmission: 4L60E with a stall converter and shift kit.
Rearend: Stock 12 bolt GM with an Eaton Trutrac limited-slip.
Front Suspension: CPP 2.5" Modular Drop Spindles, CPP Totally Tubular Control Arms, 3" drop springs, Viking Performance double-adjustable shocks and CPP High-Clearance Front Sway Bar.
Rear Suspension: CPP Totally Tubular Rear Trailing Arms, CPP 5" drop springs, CPP 2" Lowering Block Kit, Viking Performance Double-Adjustable Shocks, CPP Tubular Rear Shock Crossmember, CPP Heavy Duty C-Notch and CPP dual adjustable Trac Bar.
Brakes: CPP 1" bore Midnight Series master cylinder with proportioning valve, CPP 12" front and rear disc brakes with stainless steel hard lines.
Wheels & Tires: 15" Chevy steel wheels with stock CST/10 hubcaps and Hankook whitewall tires.
Paint: Olive Green patina.
Interior: Stock CST/10 bench seat with matching door panels, CPP Tilt Steering Column, Vintage Air A/C, Dakota Digital RTX gauges, Dynamat, 15" stock-style steering wheel, Lokar floor shifter, Pioneer Bluetooth head unit, two Kenwood 6.5" component speakers and two 6"x9" Kenwood speakers.