Want to see more of this '55 Chevy and our other builds? Check Out Our Other Projects Here
A few years back, we had a stock 1955 Chevy sitting around at CPP. It wasn't full-on show quality, but it was still an attractive little Tri-Five. When the guys from Street Rodder magazine approached us about doing a 1955 Chevy build, we knew just the car. We would call it '55 Revive.
Street Rodder Magazine covered the build of our own 1955 Bel-Air. Our stock Tri-Five Chevy got a huge makeover starting with a new GM LS3 Connect & Cruise drivetrain package and then, wanting to take it to the next level, we added all of CPP's finest steering, brakes, and suspension components. Once completed, we took it on the ultimate road trip: 2000+ miles straight to Louisville, Kentucky for the Street Rod Nationals and then to Bowling Green, Kentucky for the Danchuk Tri-Five nationals!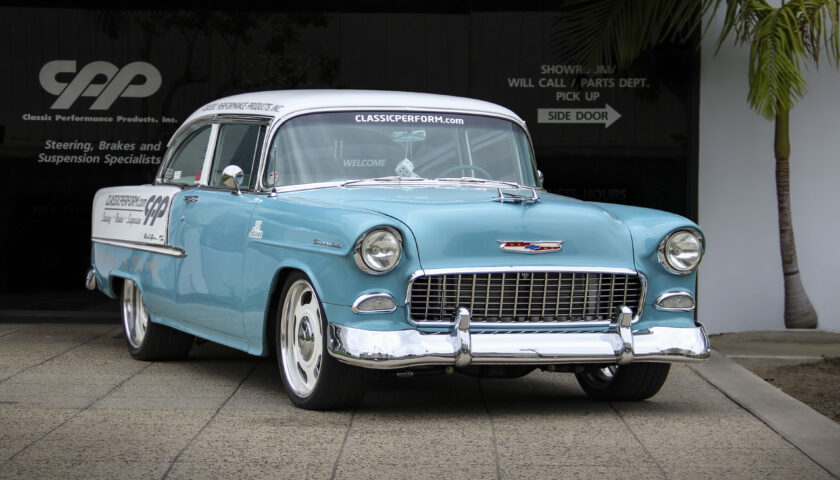 Our project '55 Revive has been on the road ever since, with even more cross-country road trips and drives to some of our favorite shows. In the past four years, our 1955 Bel Air has clocked 20,000-miles and counting!
Related Story: 1956 Chevy 210 Restomod Driven for 15 Years And Counting
Find all the build stories Street Rodder published by checking out our full build page on project '55 Revive! And if you want to see even more, check out #55revive on Instagram to see what our Tri-Five Chevy has been up to since it was put together back in 2016.
Photos courtesy of Street Rodder Magazine
Project 1955 Revive's Connect & Cruise LS Transplant
Project '55 Revive gets CPP rear disc brakes on its Currie 9-inch rearend
Installing Classic Performance Products' Big Brake Kit and tubular control arms on Project 1955 Revive
Hot Rods By Dean's High-Performance Core Support Module
Installing Real Deal Steel wider wheel housings in CPP's 1955 Chevy Revive project
Installing CPP's Complete 1955-57 Chevy Leaf Spring Relocation Kit
Installing a 29-gallon aluminum fuel tank in a 1955-1957 Chevy Bel Air