In this video, Jason Scudellari gives a brief overview of what to expect when you order a Premium Universal Tilt Steering Column from CPP.
Related Story: How to Install a CPP Premium Tilt Steering Column in 1967 to 1972 Chevy C10 Trucks
What's so good about these new columns?
When it comes to high-quality aftermarket steering columns, CPP's new Premium Universal Tilt Steering Columns are as good as it gets. They were designed from the ground up and feature all new 5-way tilt mechanisms with tight tolerances that give that high-quality performance drivers want. Likewise, the shift handle and collar have positive shift points with no excess play.
These Premium Steering Columns also feature new turn signals and neutral safety switches that are top notch and designed to enhance your steering experience. CPP's new Premium Steering Columns are for CPP's Classic Fit™ series that are direct bolt-ins and currently available for 1967 to 1972 GM trucks with many more applications on the way. CPP's new Premium Universal Fit Columns are offered in 28", 30", 32", and 33" universal configuration that can bolt-in to fit just about any classic car or truck with column shift and floor shift varieties available.
Those with the column shift option come with light up gear position indicators for both three-speed and overdrive transmissions. The choice of professional finish is yours: currently available in satin black for an OE look or a chrome finish for a little more show.
Finally, each Premium Tilt Column is shipped in sturdy suitcase-like packaging to protect them from even the roughest of delivery drivers. With zero compromise in quality, you simply can't go wrong.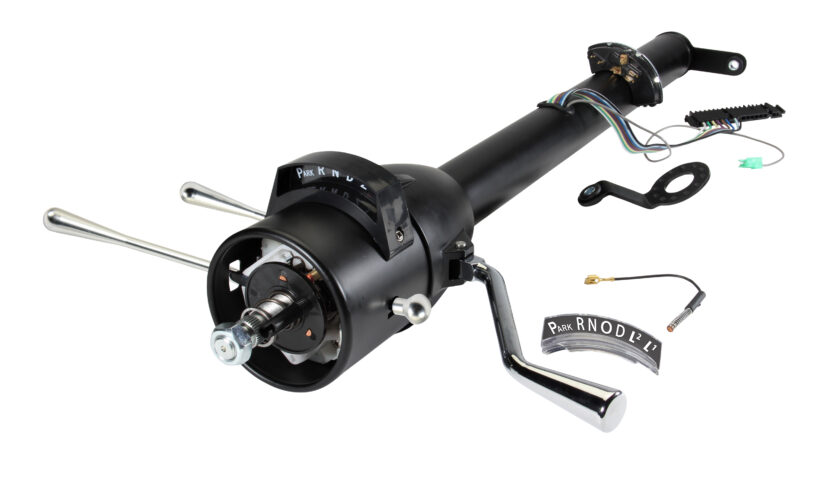 Premium Universal Tilt Steering Column Features:
New tighter tilt mechanism
New shift handle and shift collar eliminates all excess play with more positive shift points
New turn signal and neutral safety switch
New Pro Finishes available in satin black or Chrome
New damage-free, molded plastic shipping suitcase