Classic Trucks Magazine Week to Wicked is back! The crew from Classic Performance Products, Inc. (CPP) are here to assist in another week long build of this Restomod 1972 C10.
Related Story: Week To Wicked 1970 C10 With 700 HP LS7
To kick the build off, Gandrud Performance Parts provided a 502 ci big-block Connect & Cruise package. Then, LMC Truck supplied a brightened 1972 Chevy C10 shortbed. Then the icing on the cake: the stock Chevy C10 suspension and brakes were ready to be overhauled. For an all-in-one street performance package, CPP came in with their steering, brakes, & suspension.
This wicked C10, will be featured on display at the SEMA Show in Las Vegas. What's more, the keys will be handed over to one lucky winner during the C10 Nationals 2019 at the Texas Motor Speedway!
Follow the week long build progress below, as the crews work together to turn this dated shortbed into one wicked ride!
Want to see more of this 1972 C10 and our other builds? Check Out Our Other Projects Here
Day One
The stock C10 rolled into the shop, already brightened with paint, bodywork, and interior. That left day one for prepping the C10 for all new CPP steering, brakes, and suspension.
Installation of CPP's 13″ Big Brake Kit with Modular 2.5″ Drop Spindles, C10 Deluxe Chassis Upgrade Kit, and 500 Series Power Steering box were already making big gains by the day's end.
Day Two
CPP and the crew make more progress on Day 2. They started by bending and plumbing the brake lines for the CPP 13″ front, 12″ rear Big Brake Kits that are hydraulically assisted by CPP's Complete Hydrastop Street Beast System.
The 502 ci big-block then got dressed with an aluminum S-Drive pulley system from Eddie Motorsports. CPP's Big-Block fabricated engine perches with Polyplus engine mounts got the 502 ready to set the engine on the frame.
Dakota Digital gauges were prepped in the dash before the CPP Classic Fit C10 Steering Column could be bolted in. Then the "wood" bed floor and rear fender wells were also installed.
Day Three
By the end of day three the C10 is starting to look whole again. Things started to happen as the 502 ci Big-Block backed by a 4L85E transmission found it's new home. CPP Big-Block Engine Pedestals, Polyplus Engine Mounts, and Totally Tubular Transmission Crossmember made it a breeze.
More attention is directed to the engine bay as CPP's new Midnite Series aluminum master cylinder gets bench bled. It was then mounted to the CPP Hydrastop Street Beast Hydraulic Assist Unit, while the EFI system and wiring get ran and connected.
By the end of the day, the CPP Classic Fit Tilt Steering Column was bolted directly in. It was accompanied by CPP's collapsible steering shaft combo with rag-joint, Midnite Series steering shaft U-joint and 500 Series Power Steering box.
Day Four
The crew stayed on schedule for day four, as details get dialed in from the engine bay to the undercarriage.
More wiring and connections for the EFI fuel system are made, and plumbing for the radiator and exhaust system get attention. Soon the Restomod 1972 C10 can plant all four corners of its new dual-adjustable coil-over suspension firmly on the pavement.
An E-Stopp electrical parking brake system gets tucked away, mounted on the frame, to keep clear of any drivetrain, exhaust, or any obstacles on the road.
Day Five
The last day of the build is in the books! Final connections of the fuel system were made, Old Air A/C system installed, United Pacific exterior lights wired, and wheels and tires were mounted. Then, just like that, the truck was back together and on the ground.
After the fluids were filled and a few "adjustments," the 502 fired up. The Big-Block roared to life.
Unfortunately, unlike typical Week to Wicked fashion, Friday night burnouts are reserved for another day due to a rare Southern California thunderstorm.
Looks like those burnouts will have to be done by the new lucky winner of this C10 Nationals giveaway truck!
Build Photo Gallery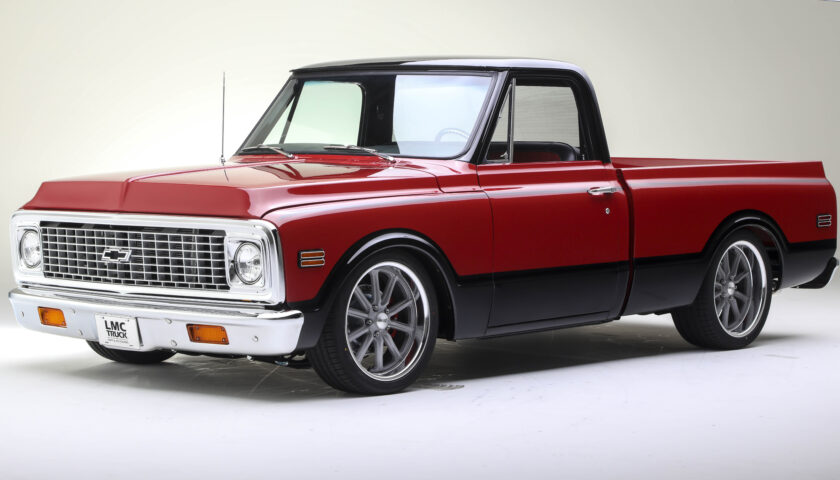 Photos courtesy of MotorTrend and CPP
See more CPP project vehicles here!