Wrapping Up our Suspension Rebuild with Sway Bars and Panhard Bar Bushings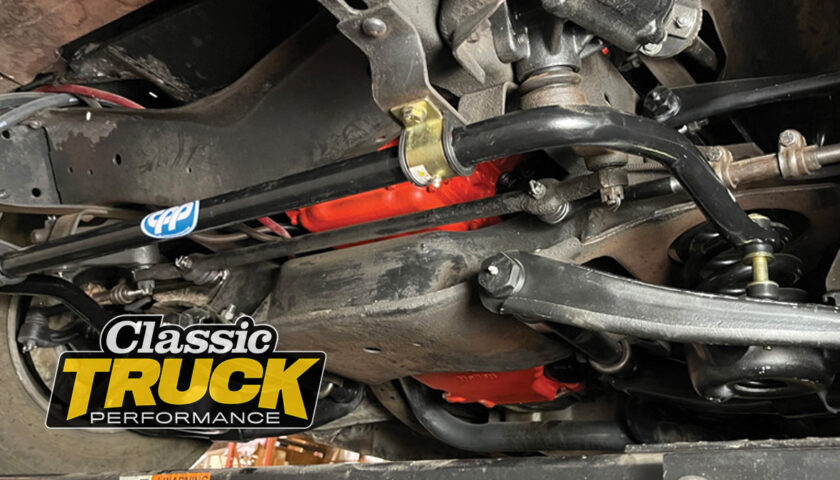 As Seen in The September 2022 Issue of Classic Truck Performance Magazine
BY TODD RYDEN, PHOTOGRAPHY BY THE AUTHOR
A couple months ago we finished rebuilding the stock control arms and steering linkage of our '71 Suburban with parts from Duralast, Classic Performance Products (CPP), and Rare Parts. (Read it here!) The result is a much smoother ride and tighter driving feel that is likely better than when the rig was new. With new coil springs and shocks complementing the rebuild there was one final upgrade we wanted to make: sway bars.
Antiroll bars, stabilizer bars, antisway—or whatever you decide to call them—are key in reducing body roll to produce a smoother cornering action. When going around a corner, the outside corner of the car drops and leans over the wheel. By tying the right and left side of the suspension together via the sway bar, the bar helps resist the roll and pulls the opposite side of the vehicle down toward the wheel to keep the body more level and in control.
This of course oversimplifies the physics and design that engineers can build into true performance machines. Different materials, stiffness of the steel, form, and overall design vary per application. Depending on the year and trim level of your truck, it may have been equipped with a front sway bar (likely a small-diameter one) but for many classics, trucks weren't built to handle better, they were just meant to haul and work.
Obviously, that line of thinking is long gone and there are sway bars of varying sizes and shapes available for most classic trucks. We opted for CPP's 1.25-inch front bar as well as their 1 1/8-inch rear bar, and while we were under the back of the truck again we swapped out the stock Panhard bar bushings with a fresh set from Rare Parts. This bar is responsible for keeping the rear axle centered and from moving side to side during cornering or rough roads and we figured with over 50 years of use, it was time to replace the bushings.
The front bar was a bolt-on affair and if your truck wasn't equipped with a sway bar, CPP supplies the brackets to mount to the framerails. The rear bar required an endlink mount to be installed on each side along with drilling holes to the trailing arms to mount the pivot brackets on the rear. Nothing that can't be handled with a tape measure, drill motor, and a couple bits.
The results were immediate after a couple quick corners in the neighborhood followed by the benefit of less lean during everyday commuting. Combined with the rebuilt steering and suspension, our Sub is ready for the road!